1880s-era Hotel in Washington Damaged By Fire
Story Created: Jul 10, 2007 at 2:56 PM EDT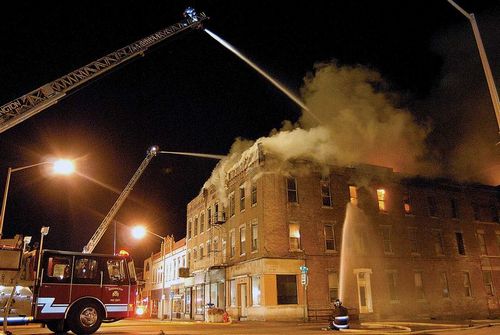 WASHINGTON, Ind. — Fire damaged a nearly 130-year-old hotel early Tuesday, forcing city officials to rethink redevelopment plans for the run-down structure that will now need to be demolished.
No one was injured in the fire at the long-vacant Meredith House Hotel in downtown Washington. The three-story building, constructed around 1880, is listed on the National Register of Historic Places as part of the city's commercial historic district but had fallen into disrepair.
Fire Chief Dave Chapman said firefighters worked to protect other buildings on the block because they knew the Meredith House would be heavily damaged from the fire, which was spotted by a police officer about 2 a.m. Firefighters did not go inside the building because of the already-existing dangerous conditions.
Chapman said the fire was regarded as suspicious as investigators searched for what could have started the fire as building had no working utilities.
Charles Selby, executive director of the Daviess County Chamber of Commerce, was scheduled to visit Indianapolis Tuesday to meet with architects and developers to discuss plans for restoring the building in the city about 50 miles north of Evansville.
"It's a loss of a historical treasure, and it would have been a major portion of our downtown redevelopment," Selby said. "We're not going to give up."
Chapman said the structure is unstable and that officials were planning to tear the building down. Selby said developers may still be interested in the city's downtown but may have to find another building.
In 2006, the hotel was listed as endangered by the Historic Landmarks Foundation of Indiana.