MEANS OF EGRESS (ESCAPE)
Egress: As defined by Webster: "A place or means of going out."
Our subject of emergency egress and exits, be on escaping from fires. Additional hazards, which must be considered, include:
• Explosion
• Earthquake
• Smoke (without fire)
• Toxic vapors
• Bomb threat
• Storms (tornado, hurricane, etc.)
• Flash floods
• Nuclear radiation exposure
Each of these hazards to the occupants of a building can occur singly or in combination with others. Depending on the hazard, the people involved, the characteristics of the building, and the quality of the means of egress provided, each hazard can be compounded by:
• Panic and confusion
• Poor visibility
• Lack of information; misinformation
These compounding factors frequently cause more injuries and fatalities than the hazard itself. Providing the proper means of egress can enable persons to successfully escape from the primary hazard.
Accessible Means Of Egress
A continuous and unobstructed way of egress travel from any accessible point in a building or facility to a public way.
Exit access
The travel path or area that leads from where a person is located to the entrance to an exit. Normally no fire resistance rating .
The codes gives the travel distance allowed to reach an exit. This is an extremely important feature since a person could be exposed to fire or smoke conditions during the time it takes to reach an exit. A general rule is the maximum travel distance to at least one exit shall not exceed 150 feet in buildings not sprinklered or exceed 200 feet in buildings protected throughout by an approved supervised sprinkler system. Depending on the occupancy, additional limitations on dead-end corridors and common pathways
are required in the travel distances to an exit.

Exit
That portion of a means of egress that is separated by construction or equipment from other areas of the building. Exit components include walls, floor, doors, or other means that provide the protected path necessary for the occupants to proceed with reasonable safety to the exterior of the building. An exit may comprise vertical or horizontal means of travel such as doorways, stairways, ramps, corridors, and passageways. Types of permissible exits are doors leading directly outside or through a protected passageway to the outside, smoke-proof towers, interior and outside stairs, ramps, and escalators in existing buildings.
Once the occupants have entered the exit staircase, they shall be protected (from exposure to fire risk and obstacle) throughout their descent down the staircase to the final exit at ground level. Elevators are not accepted as exits.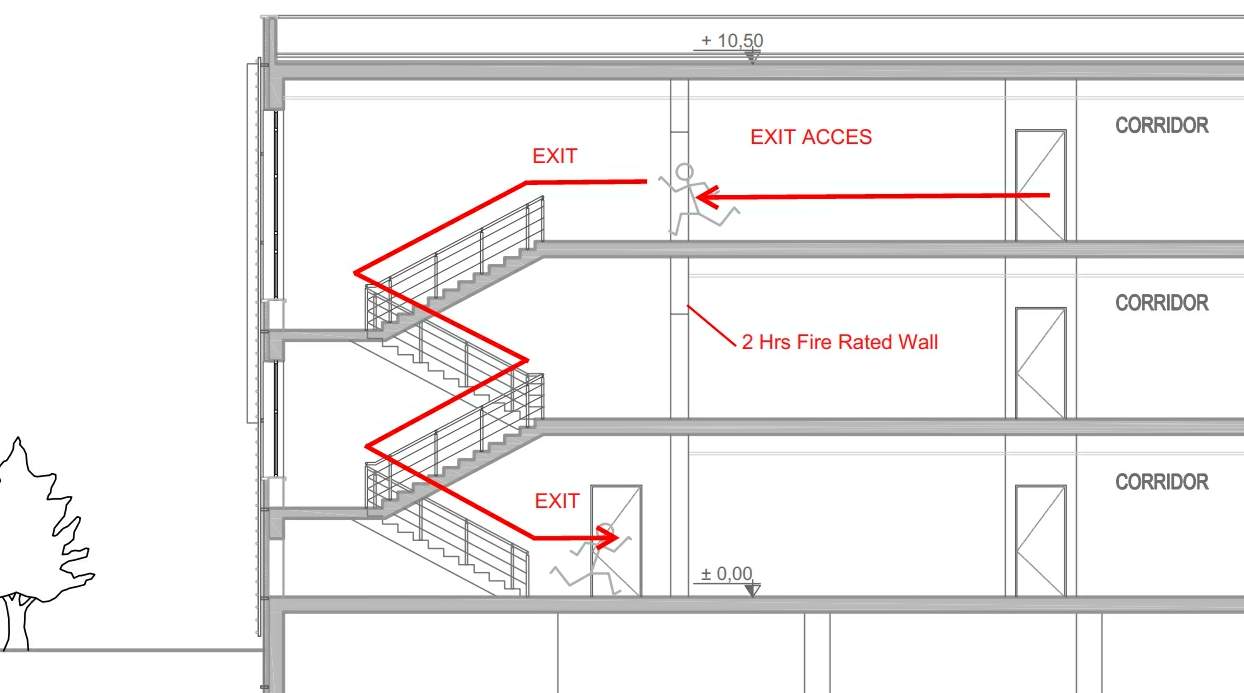 Exit discharge
That portion of a means of egress between the end of the exit and a public way or other safe place. Occupants exiting from the exit staircases shall be able to discharge into the open external space at the ground level. From this point on they should no longer be in any danger from the fire or smoke in the building.
Where an exit opens or discharges into an internal courtyard, a safe passageway must be readily available to lead the occupants out from this internal courtyard to safety at the building exterior.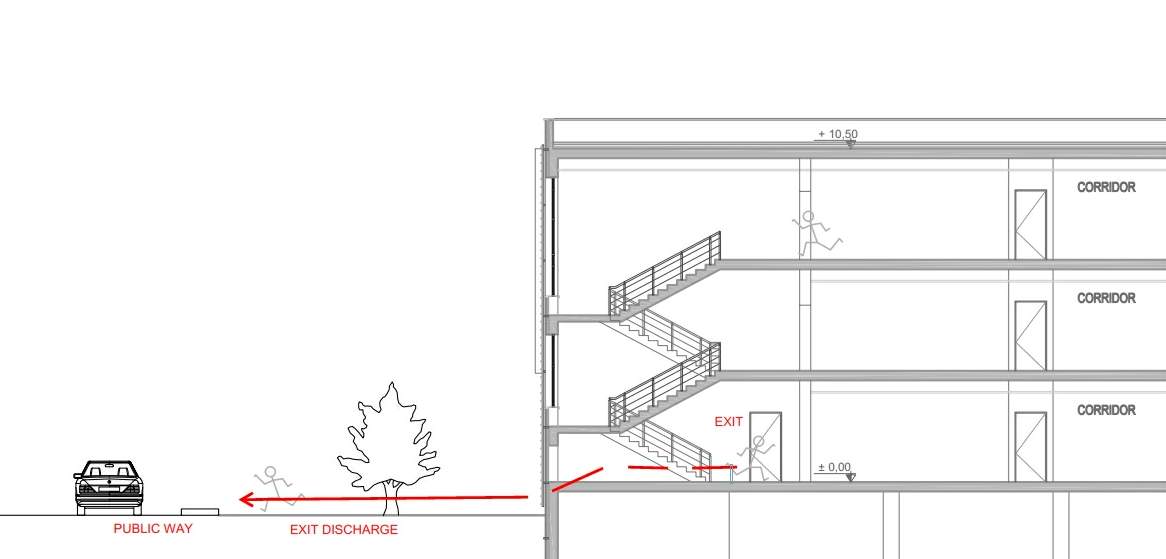 Exit access door
A door which provides access to a room or space (excluding a toilet cubicle, bedroom, storeroom, utility room, pantry and the like), or installed
across the escape path leading to an exit
Exit door
A door, including a door which opens to the external space, provided at the doorway of an exit for the passage of people, which forms part of the integrity of the exit.

Exit passageway
The horizontal extension of a vertical exit via an exit staircase or passage leading from a habitable area to an external space.

Exit staircase
A staircase constructed of noncombustible material and protected from fire (by fire-rated construction or located at the external space) for the purpose of enabling egress to the external space.
External corridor
A corridor with an unobstructed and uninterrupted ventilation opening that measures at least 1.2m in vertical height, the latter which is located
above its parapet wall.

External exit passageway
An exit passageway that serves as required exit with at least one of its longest sides open to the external space or air well.

External exit staircase
An exit staircase located outside a building, open to
the external spac
High hazard occupancy

Any occupancy in which the contents or activities
include one or more of the following:
a. materials with auto-ignition temperature lower than 200ºC,
b. materials that produce poisonous, noxious fumes, or flammable vapour,
c. materials that cause explosions,
d. highly combustible substances and/or flammable liquids.