Towson, Md. (May 16, 2005)

Investigators continue to search for the cause of Saturday's massive, six-alarm warehouse fire in Halethorpe, a process that they expect to take at least several days.
The fire at in the 3800 block of Washington Boulevard, near Commerce Drive and the Baltimore Beltway, caused about $5.1 million worth of damage, investigators say. The destruction of the 80,000-square-foot building accounts for the overwhelming majority of that figure; the warehouse was vacant, and there were few contents.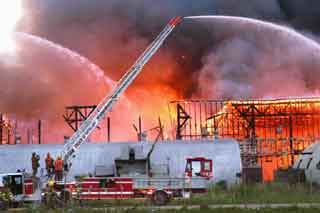 The fire began at about 7 p.m. Saturday. More than 120 firefighters, including crews from Anne Arundel and Howard counties and Baltimore City, worked to contain it.
No serious injuries were reported.
Firefighters were still at the fire scene today, cleaning up the site and searching for clues to the cause.