California wine country is reeling after a huge warehouse fire wiped out millions worth of rare vintages.
No one was seriously injured in the fire, the cause of which was still under investigation, and the losses weren't expected to put a big dent in the state's multibillion-dollar wine industry.
But for some, the potential loss of years of effort and hope spelled big trouble.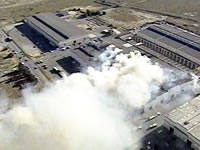 "It is a terrible thing," said Gary Lipp, who suspects that most of his 2003 cabernet sauvignon and all of his 2004 pinot noir are gone.
Lipp and Brooks Painter, both wine industry veterans, started the small Coho Wines brand three years ago and had been getting good reviews.
They still have some wine stored in another warehouse and some in barrels. But the new wine will have to be aged at least 18 months before it can be sold, meaning stalled momentum during the crucial holiday period.
"We'll send letters to our customers telling them we look forward to seeing them again in the spring of 2007," said Lipp with resigned good humor. He's hopeful he'll be able to keep the brand going although he predicts a tough couple of years.
The fire broke out Wednesday afternoon in the warehouse just south of the Napa Valley and about 30 miles northeast of San Francisco. The fire is being regarded as suspicious partly because the building appeared to be fire-resistant, a dense, concrete structure once used to repair submarines.
Structural damage from the fire, which took about eight hours to control, was estimated at $10 million, said Vallejo fire department spokesman Bill Tweedy. Losses to the contents of the building were unknown, although Polverino estimated it could be in the tens of millions.
Wines stored in the building ranged from huge chunks of smaller wineries' inventories to "library" collections of rare vintages. Even if bottles are intact, it's feared high temperatures will have spoiled the wine.
About 70 wineries leased space in the building, which also stored sugar and other food products.