Romanian cruise ship was on fire near the Gabcikovo dam, a part of a hydro-electric power station, on the Danube River. The fire broke out shortly before 3 p.m. on Sunday. The ship was carrying foreign holiday-makers. The missing passenger was found dead in her room late Sunday evening. According to witnesses, the fire started in an area where food was being prepared. The fire began to spread uncontrollably and completely destroyed the four-deck 100-metre-long ship. The evacuated passengers and crew were taken to the nearby village of Sap.Fire fighters found the body some seven hours after the blaze broke out in one of the ship's kitchens at around 3 p.m. (2 p.m. British time).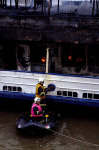 It was believed to be the singer in the ship's band, said Ivan Petko, spokesman for the regional fire brigade in the western town of Trnava.
"Since only one member of the crew was missing after the evacuation of the ship, we assume that it is the body of the missing woman," said Petko.
The remaining 42 Romanian and two Serbian crew members managed to escape from the ship.
Petko said some of the tourists were in shock, but none was injured and all were transported by bus to Bratislava.
The ship was on a journey from Romania to Austrian capital Vienna, around 60 kilometres (38 miles) from Bratislava.