2000 June 6th. Alaska, Chatham Strait, about 30 miles southwest of Juneau: a fire broke out in the main switchboard in the engine control room of the Alaska Marine Highway System (AMHS) ferry Columbia with 434 passengers, 1 stowaway, and 63 crewmembers on board on a regularly scheduled voyage from Juneau to Sitka, Alaska. As a result of the fire, the vessel lost main propulsion and electrical power and began to drift. The crewmembers on board the Columbia responded to the fire first assisted by a U.S. Coast Guard cutter. The fire was extinguished with no resulting injuries or deaths and the damage was estimated at about US $2 million.
Three passengers were evacuated by Coast Guard helicopter because of medical conditions and the remaining passengers were transferred to another AMHS ferry and transported to Juneau.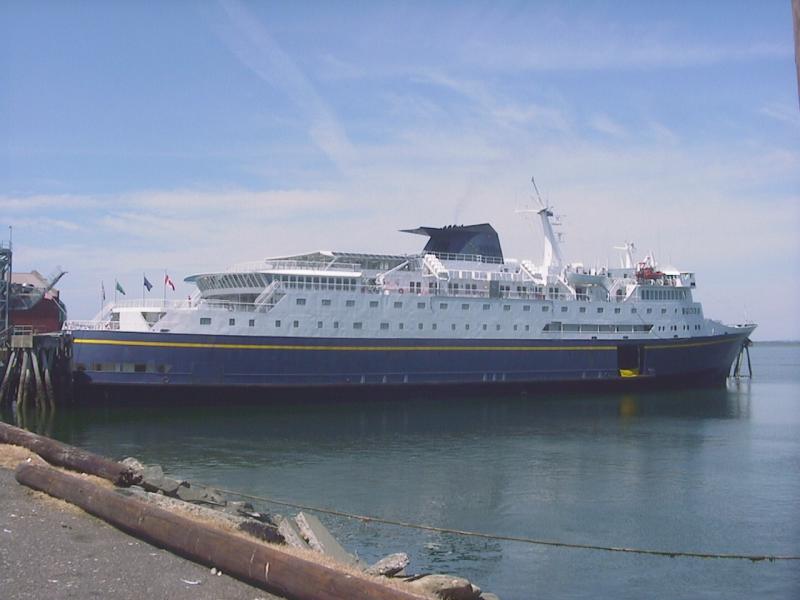 The National Transportation Safety Board determines that the probable cause of the fire on the Columbia was the absence of an effective maintenance and inspection program for the electrical switchboards, resulting in a switchboard fire by arcing, most
likely due to a faulty connection or a conductive object.
The major safety issues discussed in the report are as follows:
• Adequacy of inspection and maintenance procedures for electrical systems;
• Adequacy of management safety oversight of maintenance procedures; and
• Adequacy of firefighting procedures.
The state plans to ask for bids on an estimated $1.5 million worth of repairs to the fire-damaged ferry Columbia.
With a scheduled remodeling project coming up this winter as well, the ship won't be back in service until next summer, said Capt. Norm Edwards, operations manager of the Alaska Marine Highway System. The vessel was damaged by an electrical fire in June.
The Columbia's electrical board must be redesigned as a result of the June 6 switchboard fire in Chatham Strait, southwest of Juneau. About 500 passengers and crew members were evacuated safely, and the 418-foot ship was towed to Auke Bay and then to Ketchikan.
Meanwhile, the Matanuska was moved over to the Bellingham, Wash.-to-Skagway run, the ferry system's most lucrative route.
Initially, there was hope of getting the Columbia back in operation before the end of the summer season, but further investigation revealed more extensive damage from the electrical fire than was first thought, Edwards said.
The state already had planned the winter renovation project, estimated at $7 million. That will be a reconfiguration of two cabin decks to create 30 additional cabins, Edwards said.
The Columbia was built in 1974 at a cost of $22 million