Transpired Air Collectors


The Fort Carson Army Base in Colorado was the first federal facility to install transpired air collectors on one of its buildings. The new system helps heat and ventilate a helicopter maintenance hanger. (Credit: Warren Gretz)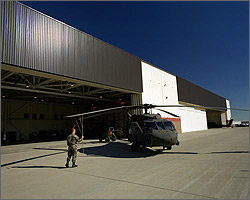 Transpired air collectors use the sun's energy to heat cold outside air for use in buildings. In so doing, they reduce the amount of space heating needed to keep buildings comfortable on cold days. Since about 13% of the energy we use in the United States goes to heat homes and commercial buildings, this new technology could result in significant energy conservation, saving millions of dollars in heating costs in the process. And because transpired air collectors dramatically reduce utility bills, they can literally pay for themselves in just a few years.
This new technology provides an effective means for substituting renewable energy for fossil fuel consumption, particularly in cold climates.
How It Works
Transpired air collectors use a simple, elegant technology to capture the sun's heat to warm buildings. The collectors consist of dark, perforated metal plates installed over a building's south-facing wall. An air space is created between the old wall and the new facade. The dark outer facade absorbs solar energy and rapidly heats up on sunny days — even when the outside air is cold.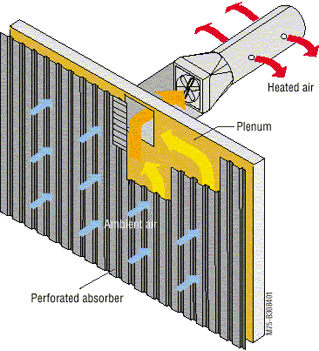 A fan or blower draws ventilation air into the building through hundreds of tiny holes in the collectors and up through the air space between the collectors and the south wall. The solar energy absorbed by the collectors warms the air flowing through them by as much as 40° F.
Unlike older space heating technologies, transpired air collectors require no expensive glazing, which caused energy loss due to reflection. The lack of glazing, together with design refinements, allow the new collectors to capture a record-breaking 80% of available solar energy.
Conserval, a company specializing in solar heating and energy conservation, developed the award-winning space-heating technology by drawing on the expertise of researchers at DOE's National Renewable Energy Laboratory. Conserval markets its transpired air collectors, which were named one of the one hundred most important technology innovations of 1995 by R&D magazine, as SOLARWALL