Indirect Systems
Most appropriate for regions with mild climates, or occasional freeze conditions, these systems run the same water that comes out your household taps directly through the collectors. The systems consist of one or more collectors, a pump, and a storage tank. Since the systems have no heat exchanger, they are slightly more efficient than indirect systems. However, the systems must incorporate special mechanisms to provide some degree of freeze protection. There are two main types of active direct systems, and each deal differently with freeze conditions. When the temperature drops below zero, "draindown" or "drainback" systems will drain the water from their collectors into a holding tank to avoid freeze damage. "Recirculating" systems pump heated water through the collectors when freeze conditions set in.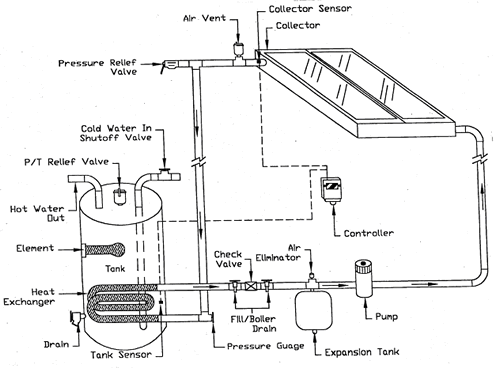 An indirect system that exhibits effectiveness, reliability, and low maintenance is the drainback system
The drainback system typically uses distilled water as the collector circulating fluid.
The collectors in this system will only have water in them when the pump is operating. This means that in case of power failure as well as each night, there will be no fluids in the collector that could possibly freeze or cool down and delay the startup of the system when the sun is shining.
This system is very reliable and widely used. It requires that the collectors are mounted higher than the drainback tank/heat exchanger. This may be impossible to do in a situation where the collectors must be mounted on the ground.