Wednesday, January 11, 2006
Fire at Luxury Rome hotel
by Tommy Haas (posted on his website)--------------------------------------------------------------------------------
Rome. What a night. At 5. 30 in the morning Red gave me a call. He said, that I should get my passport and my money and that there is a fire in the hotel. I could smell the fume, already. I got dressed. I left my room and I saw an old couple panicing in the hall way. They were looking for the emergency exit. We didn´t know where the fire was in the hotel. So, I ran downstairs from the 5th floor. The smoke was getting stronger and stronger. I had a hard time breathing. Later, we realized that the fire was on the 4th floor. The air was getting better when I reached the 3rd floor. And I was just happy to get outdoors and to see Red.

Monday, January 09, 2006
Sprinkler systems in European Hotels
Sprinkler systems are rare in European hotels. In April, 24 were killed and about 60 injured in a fire at a central Paris hotel without sprinklers, the Paris-Opera Hotel.
Stewart Kidd of the trade group British Automatic Sprinkler Association estimates that less than 3% of European hotels have sprinkler systems in each room. He says France, Italy, Austria and Portugal each have fewer than 10 such hotels, the United Kingdom fewer than 100, and Germany fewer than 50.
Sprinkler requirements vary, says Alan Brinson of the European Fire Sprinkler Network, a non-profit group that promotes sprinkler use for safety and property protection. Norway, for example, requires sprinklers in new hotels with multiple stories. Other European governments set various heights — 45 feet in Hungary, 75 feet in Berlin and Frankfurt, and 90 feet in Spain — at which new hotels must be equipped with in-room sprinklers. "Existing hotels are usually grandfathered and can be very unsafe," says Brinson

Sunday, January 08, 2006
Hotels & Fires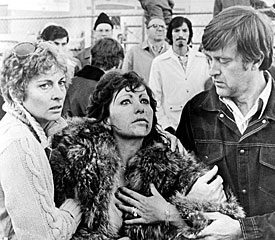 Most deadly combination of a building and fire.When people are caught in a hotel fire, it can be even more disorienting than at home, because they are in unfamiliar surroundings, often asleep. In 1980, a fire at the 26-story MGM Grand Hotel in Las Vegas killed 85 people. A few months later, a fire at the Las Vegas Hilton killed eight more. A 1993 fire at Chicago's residential Paxton Hotel killed 20 people.Most of 5* high class hotel don't have a fire sprinkler system.We must force them retrofitting their hotels with sprinkler system.
"The cost of retrofitting existing buildings with sprinklers was enormous,But as we saw with the Pioneer Hotel fire (49 life loss), the cost of not having them was even greater." Capt. Joe Gulotta of the Tucson Fire Department